Our Lest We Forget Memorial Page will complement the Camden District Roll of Honour on Camden Remembers Web Site which is being created to honour and commemorate the men and women from the Camden Area who enlisted, served or are serving in the Armed Forces, Volunteer Defence Corps, Citizen's Military Force or Land Army in all wars and conflicts.
The Camden Remembers project began in Heritage Week 2009 in a joint venture between Camden Historical Society, Camden Library Services and Camden Returned Services League Sub Branch with the aim to compile a comprehensive database of information and photographs and to create an Online Memorial, Camden Remembers, to our Service men and women.
The Camden Remembers web site was launched at Camden Museum on 16 April 2010 by Lieutenant Colonel (Ret) John Carlyle Southwell OAM RFD ED.
The Eternal Flame and District Roll Of Honor hang proudly in the Camden RSL Club Foyer.
The Roll Of Honor is one of the many sources used to create Camden Remembers.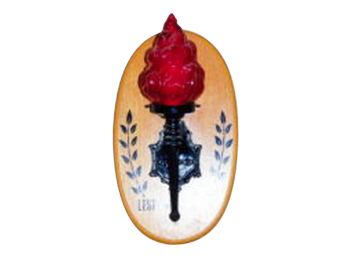 The RSL Memorial Rose Garden
The RSL Memorial was consecrated on Anzac Day 1988. Officiating at the ceremony were Brigadier Percival and President of the Camden RSL Sub-Branch George Bull.

The Memorial was moved in 1998 from the rear to the front of the RSL Club to become part of The Camden RSL Memorial Rose Garden which was officially opened by The Honourable John Fahey MP on 27 November 1998, In Honour of the men and women who gave service to their country.

On the Plaque: 1914-1918, 1939-1945, Korea, Malaya, Vietnam, To Those Who Served, Lest We Forget.

Also unveiled on the same day was a plaque dedicated to Leading Seaman Bradely Meek who died tragically aboard the Westralia on 15 May 1998.

The Anzac Day Dawn Service has been held for several years now at The RSL Memorial Rose Garden and is growing in popularity each year.
Those remembered on the Memorial Rose Garden Plaques are:
ADAMS Jonathon Drummond AKHURST Harold ALDER Kenneth Charles
ANDERSON Harold Henry AULD Harry

BAIRNSFATHER Bruce Clifford BAIRNSFATHER Ralph Mc Pherson BAKER Bruce Lindsey
BARRY Norman Charles BARSANTI Frank BEAR Frederick Charles
BEASLEY John BENAUD B BOND Kenneth John
BOND Jack BOND John Henry BOYLES Eric Charles
BRADSHAW Edward Lewis BROOKE John BROOKING Frank Hulme
BROWN Bruce Stanley BRYDEN E A BYRNE E A
BUCKINGHAM Allenby BUCKLEY P BULL Henry George
BURNET Charles Read

CARVETH A J CHAMBERS William Thomas CHAPERLIN Veletta Irene Nee Corsie
CHARLES Walter CHRISTIE Hugh Douglas CLARKE Clifford John
CLARKE Thomas George CLARKE Clifford John CLIFTON Cecil William
CLISSOLD Ernest Allan COATES Francis Ernest CONSTABLE Allan James
CORNHILL Clifford CRAMPTON Hector (Dib) CROUCH Thomas Basil
CULLEN Kenneth Arthur

DAVIES Frederick J DENNIS Lawrence Charles DOWNES Edgar Henry Kirk
DOWNES Robert John Frederick DOWNES Rupert Frederick Arding DRISCOLL Ronald James
DURRINGTON Arthur Roland

ECHIN Dorothy Mary nee Hall ECHIN Henry Adolphus

FAHEY James (Jack) FEISS Michael Frederick FORD Mark Marion
FORBES Edward John

GIBBENS George GOFF George GOFF James Robert

HAMBILTON Reginald Allan HANLEY Ronald Edward HANSEN Bryant Victor
HEATON Robert HEFFERNAN Francis Charles (Frank) HENRY John Birks (Bob)
HICKS Catherine ada Vera HILLBRICK Ernest William HIND Allen
HOLMAN Hilton John HUNT Bruce James HUNT Darryl (Doc)
HUNT Gwenneyth (Gwen)

INGRAM Robert Alfred IRELAND Albert James Leslie
JEFFERY Douglas Cedric JOHNSTON Dudley Keith JOSS I M

KEAN John Darrell Barrington KENNEDY Athol Bede KERKIN Leonard Martin
KERNOHAN John Harold KERR Meryn
LEACH Harold William LEWIS Royal Percival Norman LILLIS James
LILLIS Mick LONGLEY George Osborne LORD Walter Herbert
LOVE R LUKEY Frederick Lindsey LUSCOMBE Wilhelmina

MAHER Ronald MARDEN Leonard Roy MARSH Francis Howard (Frank)
MAY Earl Hawthorn MACARTHUR-ONSLOW George Macleay MCDONALD Donald
MCFARLANE G MCGURREN Terrence John (Terry) MCKELLAR Harold William
MEANEY Wilfred MEEHAN Joh William (Jack) MEEK Bradley
MILLAR Murray MILLS George Griffen Roy MOORE George Valentine
MOORE Gidley MORGAN Alfred MOSS J
MUNDELL William (Bill) MURDOCK Leslie George

PERRIN Howard PERRY John Steven Blair PIEFKE Charles Daniel
POTTERAT J P PRIOR D P (Mick)

QUINN Cecil

RAE Stanley Edward RAMSEY D REES Russell William
REEVES Anthony George Napier ROBERTS Harry Alexander ROBERTS Keith Buzz
ROBERTS Reginal Cecil ROUGHLEY Kenneth James ROWE Frederick
RUDDICK Jack

SALMON E SCHULSTAD Alfred George SHAKESHAFT David John
SHEPHERD George SIDMAN Ralph Leonard SIMS Robert John
SMITH Kevin Bernard STANTON Raymond Edward STARR Leonard Richard
STARR R STENHOUSE Jack STEPHENS Alan Thomas
STIBBARD Jack STRACHAN Isobel Elizabeth nee Paterson SUMMERTON Ernest Leon
STUCKEY Roy Darrell

TAYLOR Frederick Thomas TAYLOR Percy Edward TAYLOR Walter James
TIBBERT Jack TODHUNTER Andrew Thomas TOOVEY Frederick Albert
TURNER Leslie Allan

WALKER George Charles WATKINS Bruce Hamilton WATTS Frederic
WEBSTER D W WEIBERLE Jack Hutchinson WELLS Robert Leslie
WHITE Roy Alfred WILLCOCK Jack WILSON Ernest Grayson
WILSON Kenneth B WOLFF Thomas James WONSON Stuart H
WOODWARD Eric Sydney WRIGHT Albert (Snow) WRIGHT Ronald
WYLIE James Bruce WYLIE Lawrence Samuel Douglas